June 2023
| Sun | Mon | Tue | Wed | Thu | Fri | Sat |
| --- | --- | --- | --- | --- | --- | --- |
| | | | | 1 | 2 | 3 |
| 4 | 5 | 6 | 7 | 8 | 9 | 10 |
| 11 | 12 | 13 | 14 | 15 | 16 | 17 |
| 18 | 19 | 20 | 21 | 22 | 23 | 24 |
| 25 | 26 | 27 | 28 | 29 | 30 | |
Calendar
My comments about Bustles article:
http://www.bustle.com/articles/136724-7-bra-shopping-hacks-every-woman-needs-to-know
First I disagree about the numbers that undergarment brands and lingerie sites give about wrong bra sizing. I think those numbers come from what they have found in their fittings, and the lingerie they have sold. But those numbers are not correct if they are adding numbers to the band, or putting the customer in the bra they think fits.
1. A Supportive bra that fits is comfortable, no need to choose one over the other. I agree that the band should be snug on the loosest setting and that 80% of support comes from the band not the straps.
2. First I agree do not assume your size, many women have said they do this. Second, I disagree about the tape measure - use the tape measure. While it is a starting point, the bending and standing measure are both important measures to work with  finding the correct cup. While it's true that breast shapes are different, that does not negate bust measure.
I also agree with measuring every 6 - 12 months to make sure of your band and cup size.
3.  The three system hook & eye are there for greater tightening as the band loosens with wear. That said, hand washing in cold water and air drying will keep your bras in perfect shape for a very long time.
4. Larger busts that are heavy do wear padded bras for added cup support. I did not say add size, I said support some busty women do like a padded bra for extra support because their boobs are heavy. There are busty women that do not like seamed bras or have not found seamed bras to give the support they need.
There are many different breast shapes that need a cup shape that fits them.
5. Correct fit of the bra - gore tacked on the chest, underwire right under inframammary fold ( the soft part between the bottom of boob and rib bone) and on sides. Making sure underwire is not on breast tissue - gore or on the sides of cups.
Then swoop and scoop is important - this shows if the cup fits or is too small. It will show if the cup is large but that is not often.
Last I agree that an excellent bra is made with excellent material. Spending more on a good bra that fits is worth the money and will last a long time.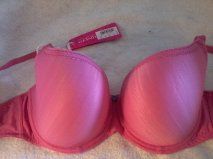 ---
Permissions in this forum:
You
cannot
reply to topics in this forum