June 2023
| Sun | Mon | Tue | Wed | Thu | Fri | Sat |
| --- | --- | --- | --- | --- | --- | --- |
| | | | | 1 | 2 | 3 |
| 4 | 5 | 6 | 7 | 8 | 9 | 10 |
| 11 | 12 | 13 | 14 | 15 | 16 | 17 |
| 18 | 19 | 20 | 21 | 22 | 23 | 24 |
| 25 | 26 | 27 | 28 | 29 | 30 | |
Calendar
Correct bra measuring- underbust and bust: standing and bending over measure with the bra  Off.

The following video shows how to measure standing and bending.
Post New Topic to give Your Measurements
 - Make sure you follow the below instruction's.  
We need these measurements:
1. For underbust- measure snug around chest under your breast's. Write down number
If number is odd round up- you can stay with that number or add two - this is band size
2. Loose standing measure  across the fullest part of your breast's. Write number- this is cup size. ( ex: 37 inches across bust)
Next - loose 90- degree bending measure:  measure the fullest part of the breasts, tape just touching skin. This is to get all breast tissue in the measure. Some women's cup measure is the bending over measure because they have a lot of side boob that doesn't get added in the standing measure.
3. Count from band size number: bending to standing numbers- this is cup size.
U.S. cup size is in inches from the band.
UK and EU in centimeter's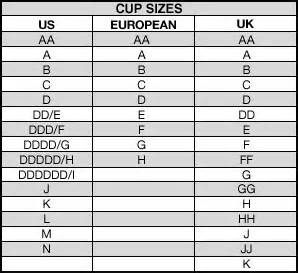 Ex- If band is 28 - you can stay there or try 30
If bust measure is 40 bending over and 39 standing
28k/L
or 30J- 30I+
Once you know your bra size you can go shopping, if there is a Dillard's, Nordstrom or Macy's where you are, you can try on
Also, there are lingerie sites in virtual you can check out.
If you were to get a fitting in a lingerie store where they add 4,5 or 6 inches to the band measurement- and only use a standing measure, this is what it would be
28- add 4 inches to get 32 band then 39 standing measure would be 32G. If they don't know that 32G exists, then they will add to the band measure to 34DD.
They will have you try on a 34DD, but the band will start to ride up because it's loose, and the cup will be small.
Plus 4 - which is adding 4 to 6 inches to  underbust measure  makes the band size too big.
It also lowers cup letter because cup letter is counted from band size. This makes the band size too big and cup too small, now quad happens: between cups, by underarm and under cups.
When shopping for new undergarments, the band should always be snug on the loose setting- or the first set of eyes.
Once you have measured and been fitted, you need to know if you have a narrow or wide base. Breasts that start before the underarm need narrow wires. Breasts that start from the middle or back of the underarm ( called side boob) need wide wires.
Wide Breasts or  Side Boob / Breasts start under arm from middle to back of underarm - need Wide Wires -
Breasts start before the underarm - need Narrow Wires ( no side boob )
Bra fitting guide | Bra fitting problems | Simply Yours bra measuring guide
How To Put On Your Bra:
Putting the bra straps on your arms, bending over with hands on the band under the cups, pull the bra slightly under your boobs making sure boobs are in the cups and the underwire is under each boob, hook the bra on the loosest setting. Then bending over or standing put your hand in each cup and gently scooping the boob toward the center making sure the boob is fully in the cup and the underwire is under each boob from side to side.  The Curvy Kate video below explains further the Swoop and Scoop.
If after swoop and scoop there is cup quad, a larger cup or higher is needed. To know if band fits put the bra on around waist cups facing downward. If the band is snug and feels comfortable on loosest setting the band fits.  
Ms. Bra Fit gives an excellent visual on correct bra fit vs bras that don't fit and swoop & scoop for correct cup fit:
This is a Curvy Kate video showing correct bra fit. I think the band should be a little more snug on the loosest setting.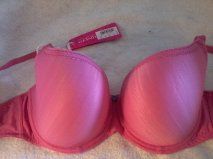 Bra Fitting is for Fitting Bras  
Only
Start NEW topic in Bra Fitting
Thank you  
Last edited by Admin on Wed Nov 23, 2016 6:07 pm; edited 7 times in total
Right now Natori and Chantelle carry 30 - 32 band to H cup. Wacoal carries 30-32 band to G/H cup.
Goddess starts at 34 band and they carry to N cup.

Most women sized greater than H cup U.S. go to the UK for their undergarments. Most UK brands start at 28 band and go to JJ- K/L cup:

Panache
Curvy Kate
Freya
Fantasie
Bravissimo
---
Permissions in this forum:
You
cannot
reply to topics in this forum